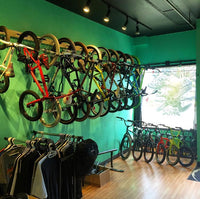 BMX bikes are our specialty!
BMX bikes are coming and going daily! If you don't see the bike you want, we can special order it in for you at no extra cost! Delivered right to your door!
Ryder Distribution has a live inventory site! We order from them weekly!
Ryderbmx.com is the longest running Canadian BMX distribution company. They've been in the game for 25 years and are no joke. Check their site for LIVE INVENTORY. If you see something you want on their site, it's in stock and I can bring it in for you. 👊🏻 Don't sleep, check em out.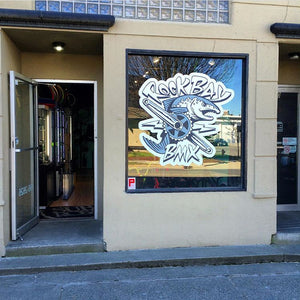 Pop by our Victoria BC store front if your around!!
This is a BMX specialty shop. Rider owned and operated since 2016. No MTBs, no road bikes,no e-bikes, no scoots, no sk8s, no longboards, no in-line skates, no mini bikes or hockey sticks sold here. Located at
106-2626 Bridge Street, Victoria BC, V8T4S9
JUST BMX!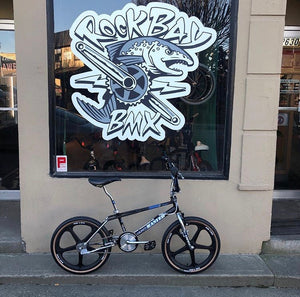 We do Old / Midschool BMX stuff too!
I scored this old 1988 Haro Master locally. I brought it back from the dead and spruced it up with a bunch of new parts and decals!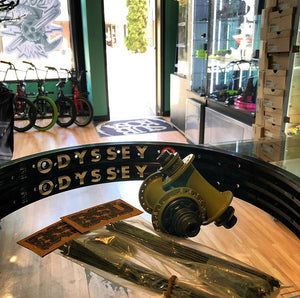 We build custom BMX wheels!!
Custom is our specialty. With over 20 years experience building custom BMX wheels, you can trust our in house wheel build specialist to get you laced up proper!
Brought my bike in randomly, I had a broken chain on my road bike. They had me sorted out in a couple minutes and had me on my way. Mechanic didnt even charge me. I will definitely come back to pick up a bike for my kids. Thanks for all the help guys!

Version38
Rock Bay BMX is amazing, Brad the owner operator is very knowledgeable, helps out anyway he can, carries great selection of parts and accessories including BMX Race items. We bought our first BMX Bikes from here 4 years ago and every experience is great. Overall an amazing shop and person, highly recommended!

Kyle Besler
OMG.....if I could leave 10 stars I would!!! Not that it would matter as everyone has left 5 stars!!!!!! That's all you need to know. Brad is the man and sold mey forever BMX. I didn't even know a 29" bmx was an option for my 6'3 self.

Shambha Steve
This is the best spot to shop for any BMX parts or needs. Brad is super helpful, knowledgeable, and really warm and welcoming. A great family run business to support. Everything is priced really fairly, and I would trust any advice on parts, products or services. A wonderful all around experience.

james clifford
Great store Brad is one of the best guys I've had the pleasure of knowing. I've know him for years and really appreciate the level a help and support he gives you. He is like the perfect sports bra in human form.

William Peckford
Testimonials
Bet anyone 100 bucks you can't find customer service better than this guy. I'll wait.

Healthy Glow
Amazing customer service really friendly highly recommend

Gord Guay
Great people, awesome store! If you ride... get in there!

Tony Schreuers