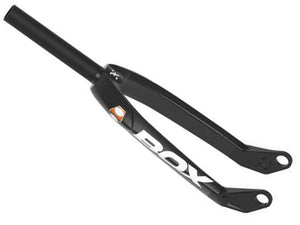 Box Components X2 (Squared) Carbon forks are designed purely with BMX racing in mind. Each model features a rider-specific design that is strong, lightweight and extremely reliable, to meet the demands of the fastest racers.
20mm Axle Type
Chromo Steer Tube


655 grams / 22.7 oz (24")
Fork Offset: 32mm +/-1.5mm

X-Forks are intended for BMX racing only and not meant for freestyle riding or dirt jumping. Meets or exceeds ENBMX standards.
*Box Components recommend the use of a stem lock, failure to use one may void warranty.